Individual Travel - Not All its Cracked Up To Be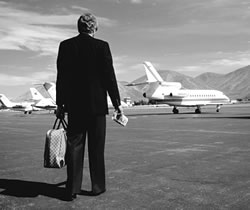 Thx for your time on the phone a few minutes ago. My experience was not what I was hoping for. Perhaps it can be helpful for other men considering going over to Eastern Europe to look for a wife. Pleas feel free to share this letter with them. It is the "Cliff Notes" of my story. Sorry I cannot participate in your group symposium this Thursday night but I have class for graduate school that I cannot miss. Here is my story.
I was and am looking for a traditional woman with strong family values who wants to be a wife and a mother and had been corresponding by letter through the Foreign Affair site with a nice looking woman, college educated, economist, from Kharkov, fed up with Ukrainian men in general, and hoping for something better from the West. I had described the typical career oriented American woman who wants to be a man and she thought that that was quite strange and assured me that she was not that type of woman. After corresponding for two months (exchanging about 6 or 7 letters, we agreed to meet in Kiev so that I would have an easier time getting there.
We exchanged very promising letters and she said that she liked my pictures very much. Though there is nearly 20 yrs. age difference, it did not seem to be an impediment (and I work out regularly so I had confidence that she would not reject me outright). As we planned the rendezvous, she was adamant about bringing her own translator, which I naively had no qualms about. After I had cleared out my life for the anticipated trip and had made all the reservations (for [separate] hotel rooms-this Christian man does not sleep with anyone who is not his wife! -, air, etc.), and wrote her to confirm my planned arrival, I heard NOTHING from the girl for three weeks. I then wrote her another letter asking, "What up?" It was not very reassuring. I had just committed to about $2,000 worth of travel. THEN she finally wrote back saying that she had "troubles" and did not want to bother me with them (and I wondered about the nature of the problems and when she planned to let me in on the secret!). She assured me that we should meet, etc. Game on. OK.
When I got there, Diana was stone cold. She maybe said two words to me in the cab from the airport to the hotel. When we went out for dinner, she spent the first 10 minutes lecturing me on my wardrobe selection. She did not seem interested in the fact that I had just come all the way from Shanghai through the US and could not carry all that I wanted since I was going airline space- available and there was a limit to what I could bring. But...this little 29 yr. old girl had never evidently been around the block and this was beyond her grasp.
As we walked down to the restaurant, she was having her picture taken down by every monument and statue in the city but was happy to keep me out of the picture (which, everyone but me knew that I already was- out of the picture!). Dinner- "Why do you want a wife from Ukraine?" I began by citing the things that she had said in her letters- a traditional girl looking for a good man, blah blah blah. She seemed intent to correct me by going in to all of this stuff about getting a job and a career and knew she could be a success and how she does not trust men, and how her father had left her family, and on and on and I thought, "Gee, am I in LA? I thought that I was in Eastern Europe! Must have got on the wrong plane."
So you get the idea how things proceeded for the next three days. I still held out some hope that she was warming up to me. But...I also realized that this girl was just not real. Her letters were not real, her nails were fake, her eyelashes were fake, her boobs were fake, but her personality was unfortunately real. And then, instead of spending our last evening at a nice restaurant, Diana, the girl with no money and only sporadic paychecks, needed to stop in at all the little dress stores and boutiques along the way and try on everything. THIS is priceless (no pun intended): During one of these charades, the translator turns to me and says, "Do you think Diana looks good in that coat?" "Yeah, she looks nice in it." "Then why don't you buy it for her?" "NO!" She then looked at me curiously, like the RCA dog looking into the megaphone: "Why not?" Because she is NOT my girlfriend, that's why!" That was the last straw. Forget all, the previous nice gifts that I had given her (nothing exotic, just little things like a purse and some souvenirs of China, etc.). Diana and the translator were only to happy to milk the cow once again.
Even though I did not get stung as badly as I could have, I guess my plan to do it "on the cheap" was actually not so cheap after all. The big date that I had invested in for almost the cost of one of Foreign Affair's group trips (actually- probably did spend about $3,500 by the time it was all said and done) was over before it even began. Brothers, I realize that many of you are just like me- looking for a good woman (not perfection) and that you don't want the opportunity for love to pass you by. Granted. But, if you think you want a good Eastern European woman, I would highly advise you to get into a group tour with Foreign Affair and let them be the experienced guides that you will need to successfully negotiate what could be your biggest blessing or potentially your worst nightmare. I got off cheap because I was only a little naive. You can be smarter that I was and I am sure that you will score a really good girl who you will treasure and have a happy life together. But, just beware that there are scam artists in any country and I think that Foreign Affair personnel can help you to avoid the minefields. Thanks for listening and good luck and God bless you!
Jack