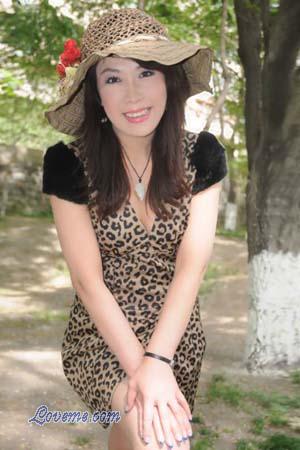 ID: 131702
Hua
China
City:
Urumqi
Age:
52
Birth Date:
4/30/1965
Zodiac:
Taurus
,
snake
Weight:
136lb, 62kg
Height:
5'6", 168cm
Eye Color:
Black
Hair Color:
Black
Marital Status:
Divorced
Children:
1 - boy, 19
Religion:
None/Agnostic
Smoker:
No
Drinker:
No
Education:
Some College
Company:
Business Owner
Job Title:
Sales
Years Worked:
20
Sports:
Dancing, Swimming
Hobbies:
Cooking, Concert, Traveling, Reading
English:
fair
Languages:
Chinese (native)
Self Description: I am a ordinary woman,kind,love life,easygoing,understanding,optimistic and confident,pure but passionate,i have have lots of merits most orient women have.I like quiet,comfortable life and to be a little romantic someitmes. My work is about pharmaceutical sales,i learned medicine when I was in college,I begun to work in the Medicines Company here since I graduated,we sale medicines to each big hosipital,so,I know some medical knowledges.i begun to my own business since last year,sale the medcines to hospitals through business sectors.it is a challenging job,but I like very much,i feel I am a good saleswoman,smile.I keep busy life and work,but I know,successful job can't make up my loneliness and my desire for love,I need a man who has love and would like to share my life with.are you him?
Comments: I hope you are responsible,stable,understanding,love me,cherish me,we have smililar hobbies,attract each other.I will give all of my love to if i can find you,look forward to enjoy beautiful future with you.