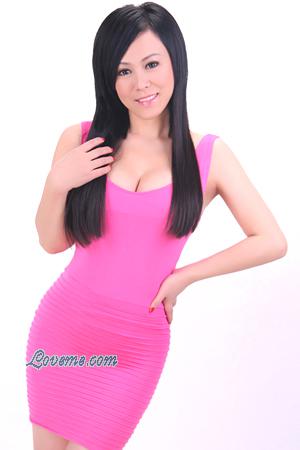 ID: 128899
qiuyu
China
City:
Shanghai
Age:
40
Birth Date:
12/11/1977
Zodiac:
Sagittarius
,
Snake
Weight:
108lb, 49kg
Height:
5'4", 163cm
Eye Color:
Black
Hair Color:
Black
Marital Status:
Single
Children:
None
Religion:
None/Agnostic
Smoker:
No
Drinker:
No
Education:
College
Company:
International Trading Company
Job Title:
Manager
Years Worked:
8
Sports:
Fitness, Gym, Swimming
Hobbies:
Reading, parks, travelling, cinema, music, photos
English:
good
Languages:
Chinese (native)
Self Description: I am a cheerful and lively girl. I sincerely hope I can find my love to accompany me through for the rest of life. I am kind, sympathetic, caring, loving, passionate and I like to spend romantic time with my love, even if what we do is simple. I like hugs, kisses. I have a gentle heart. I am looking for a long-term relationship, and a happy marriage later. I am very sincere. I wish we can share our thoughts, feelings, dreams together, love and support each other till the end of life.
Comments: I wish you are sincere, kind-hearted, romantic, passionate gentleman, who knows how to appreciate love and happiness in life, who values beauty on both outside and inside. I am looking for a lasting relationship with the right man. A man who is gentle, honest, responsible and faithful to love. It is important that a man be a man. He may seek counsel but he takes responsibility for his decisions. He protects those under his care. Are you my knight, whom God sends to protect me? I would like to have countless happy days with my life partner, who will nest our warm and sweet home with me, face all ups and downs in life with me, whose strong shoulders are always ready for me, whose warm embrace welcomes me any time. In return, I will love him, be loyal to him, take care of him and make his world brighter just by being in it. Also family is very important. I like staying with family, cooking nice foods for them, chatting with them and share all the joy with them. Do you! want to build such a happy family with me? My love for you is like time, if you give it just one moment, it will last forever. If you can feel my heart, come to me and take me home. I am looking forward to meeting you here.