DNEPRO SINGLES TOURS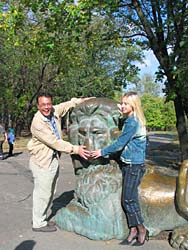 AFA now gives you the opportunity to meet literally hundreds of women during your exciting Singles Tour to Dnepro with Bonus Cities of both Krivoy Rog and Zaporozhye. Your 12-day Dnepro Tour will be entirely focused around the beautiful women who inhabit these charming cities. We will implement several different vehicles designed specifically for you to meet the women on our vast database, including three large Social gatherings, and, of course, our constant One-on-One Introductions via our Dnepro, Krivoy Rog & Zaporozhye tour offices and the local affiliate offices. There are thousands of profiles from which to choose.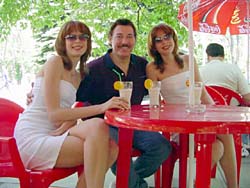 Your 12-day Dnepro with bonus cities Singles Tour will consist of countless meetings and introductions with the women of Dnepro, as well as those from the surrounding cities. Dnepro, the third largest city in the Ukraine, with over 1.2 million people is the industrial center of Ukraine. Krivoy Rog is the longest city in Europe and has a very rural feel with a population of 700,000. Zaporozhye has a population of approximately 1 million.
There are numerous interesting sights to see and explore including museums, art exhibits and opera and ballet performances. Of course, all of these attractions are greatly enhanced when accompanied by one of the stunning women of Dnepro you have met while on the Singles Tour.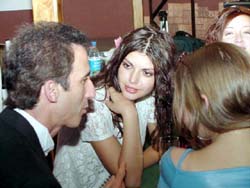 Please keep in mind that your Dnepro, Krivoy Rog, Zaporozhye tour is designed so that all you have to concern yourself with is meeting as many women as possible through the many different vehicles provided for you. Our friendly and competent staff is at your call 24 hours a day to accommodate all your needs. For your convenience, our hospitality room is located in the same hotel where you will be staying.
These cities have much to offer, but nothing compares to the beauty and sincerity of the women who live here. These women, for whatever reason, have not yet found what they are searching for and have joined our service in hopes of finding that one special person. Everything we do is designed to assist these women in finding that one special man with whom they can share their lives.
THE "SINGLES TRIP" INCLUDES:
Socials - One social for every city (All one city tours include 2 socials. Two city tours will include two Socials (one each city;) and three city tours will include three Socials etc.) Socials include unlimited contacts/introductions, personal interpreters hors d'oeuvres, refreshments, champagne. Unlimited Introductions from our Hospitality Suite staff during tour dates with women from our database as well as new women who are not yet on the internet. Interpreters available in the Hospitality Suite from 9am to 9pm. Personal interpreters provided free of charge during the social and in the Hospitality Suite. Ongoing Hospitality Service with translators and staff to assist with any logistics, advice, or any needs you may have.
Hotel accommodations, including free daily breakfast and other amenities.
Transport from airport, hotel, & all AFA events including Socials where necessary.
One three-hour guided tour of the first city.
Hotel area and orientation walking tours of all cities.
Free 1 month Platinum Membership A $95.00 value!
Free Fiancee Visa Kit (for U.S. residents only) $89.50 value.
Discover why more Singles Tour clients place their trust in Chinese Brides each and every year than any other tour agency!
Now have all your Singles Tour questions answered by one of our Tour Representatives 7 days a week, from 9AM to 9PM MST, by calling our Tour Info line at (602) 553-8178